Teacher of the Year and Regional Winners
2024 Washington State Teacher of the Year
Puget Sound Educational Service District 121
Blaire Penry
1-12 CTE/Electives Teacher
Auburn
Blaire Penry teaches CTE and Fine Arts at Auburn School District and is the worksite learning coordinator for multiple schools. A true equity driven educator, she has led in the creation of student equity groups, developed and facilitated equity and diversity professional development for a 1st-12th grade faculty, and committed to working with local leaders to make sure all students are prepared for the future that they choose. Informed by her lived experiences and inspired by her activism work, Blaire's vision and voice are integral in continually shaping policies and initiatives that intentionally cultivate a reflective, emboldened staff and student body at Auburn Online and across ASD. She has served as high school faculty lead, is on the building leadership team, co-lead of Visible Learning, on the SIP team and the Equity faculty lead. She is an active member of Auburn Equity Leadership Academy, promoting culturally responsive practices throughout ASD. She volunteers in DECA programs, participates in the Black/African American affinity group and serves on CTE advisory committees. In every learning experience Blaire facilitates, her students drive and lead the learning. Her unconditional positivity for her students is a key reason she is so impactful. Blaire loves her job and said she gets to laugh with her students every day. She loves exploring topics that students find relevant to their lives. " I believe that Mrs. Penry is an outstanding teacher, the way that she shows her students how much she cares about them and the energy she brings to the classroom everyday constantly making you want to be there is amazing." says senior Jekyla Beasley. Blaire's leadership continues to shape not only her school community, but inspires her colleagues and the student body to be reflective, informed, active citizens of Auburn.
---
2024 Regional Teacher of the Year
Northeast Educational Service District 101
Madison Dissmore
6th Grade Math Teacher
Lincoln Pullman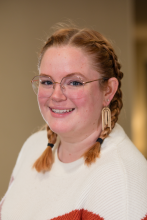 Madison "Mimi" Dissmore teaches sixth grade math at Lincoln Middle School in Pullman, Washington. As a math educator, her mission is to help students rewrite their math narratives. She removes barriers and provides support for all students to access rigorous mathematics, and partners with students to build their confidence as mathematicians and human beings. The structure of her classroom allows for students to make mistakes and grow as individuals. Mimi is also engaged in improving building and district level equity. She has served in several leadership positions, notably for the District and Building Guiding Coalitions for Professional Learning Communities, Mentoring Leadership Team, Math Fellows, Math Leadership Team, and Curriculum Advisory Council. She leads her building's math collaborative team and sixth grade team. Throughout her time in these leadership roles, she has helped transform district structures regarding tracking and grading practices. When she isn't teaching, Mimi advises various student organizations, including the Gender & Sexuality Alliance, Magic: the Gathering, Chess, and Girls' Bowling. She believes students need a strong sense of belonging and a space where they can be themselves in order to be successful, and she fosters that community inside her classroom as well as in the clubs she advises. She empowers students to advocate for positive school change, including creating opportunities for students to discuss issues with their principal and writing letters to the board. Beyond her classroom, Mimi believes in the importance of mentoring educators to provide high-quality, equitable instruction district-wide. She has served as a BEST mentor, and many of her mentees now hold teacher leadership positions within their building. She instructs pre-service teacher courses at Washington State University and hosts practicum students. Mimi supports the growth of her colleagues by providing professional learning centered on building relationships and classroom community, supporting queer students, and other topics.
---
2024 Regional Teacher of the Year
Educational Service District 105
Shari Brink
High School Family and Consumer Sciences Teacher
Selah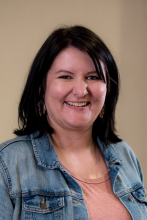 Shari Brink teaches Family and Consumer Sciences Education (FCS), specializing in the ECE/K-12 Education pathway, at Selah High School. She serves as CTE Department Head and co-advises Family Career and Community Leaders of America (FCCLA). She has led her ECE/K-12 Education Pathway in growing from 2 single class offerings to a fully developed pathway that offers a sequence of 9 classes and 27 college credits articulated with YVC and CWU. Students graduate from the program prepared and certified to work in local daycares and preschools or to continue their pursuit of becoming a future educator. Shari has been previously recognized for her teaching as the Washington Association of Family and Consumer Sciences Educators (WA-FACSE) New Teacher of the Year in 2017 and as the Washington Association of Career and Technical Education New Teacher of the Year in 2018. Additionally, she was recognized as Certificated Employee of the Year for SHS in 2019 and 2021. She was recently honored with the Master Advisor award for National FCCLA. In 2020 she earned her CTE Director Certification. Shari believes in the power of connecting students to their passion through CTE programs and has seen school become more relevant to students through CTE programs. In her program she strives to connect students to application of their teaching skills, partnering with the SSD for events and practicum experiences. She also works to find ways to earn students industry recognized credentials that make them more hirable upon graduation. In addition to teaching, she is passionate about student leadership. She currently advises a FCCLA State Officer and supports STAR Event competitors. This year alone her chapter qualified 15 students to compete at FCCLA Nationals. Shari is the wife of Jared Brink, a Choice Learning teacher in the SSD and has two children, Natalie (10) and Brodie (5).
---
2024 Regional Teacher of the Year
Educational Service District 112
Donna Schatz
High School Science and CTE Teacher
Washougal High School Washougal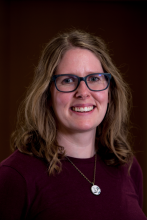 Donna Schatz teaches science and engineering at Washougal High School, in Washougal Washington. After school she advises the Technology Student Association (TSA) and leads professional development for the teachers at school centered on reading strategies, using technology in the classroom and high leverage teaching practices. Through her nine years of teaching, she has taught many science programs. During this time she discovered a passion for supporting students in rigorous coursework through relationship building. This passion led her to be the science teacher for a new program at Washougal High School called Freshman Academy. This program supports students with a cohort model and smaller class sizes. After the implementation of Freshman Academy, Washougal High School had an increase in freshmen who are on track to graduate. Donna's experience with scaffolding allows her students to be successful with challenging coursework. She believes that all students can learn and that all students can tackle rigorous courses, with the right support in place. This belief has led her to create a classroom where students feel safe and confident. Students know that facing challenges and failing is a part of the learning process. Her flexibility with the day-to-day schedule allows her to adapt to the interests and needs of the students. Project based learning, and real-world problems are a fundamental part of her classroom. Donna's classroom is an open door, she welcomes other educators and administrators to observe and give feedback. She believes that growth as an educator is a necessary part of the profession. Every year a new group of students will enter through the door with different needs, interests, and strengths, and Donna welcomes them as they are.
---
2024 Regional Teacher of the Year
Capital Region Educational Service District 113
Holly Johnson
Elementary School Special Education Teacher
Tenino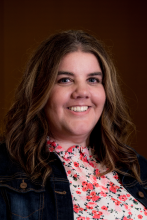 Holly Johnson knew from a very young age that she wanted to be a teacher. Her dream came true in 2002 when she was hired by Tenino School District as an integrated kindergarten teacher. Although Holly started her career teaching kindergarten, a majority of her career has been teaching special education in grades K-2. Holly is a lifelong learner who strives to improve her skills to reach the unique needs of her students. She leads her building special education team and has co-chaired her building RTI Team for many years. She has supervised several student teachers, hoping to share her love and passion for special education and early intervention. It is because of this passion that Holly also facilitates kindergarten readiness parent workshops. Holly is able to adapt her teaching style to meet the needs of her students. She is inclusive of all of her learners and their unique needs. She has high expectations for all of her students - expectations that are met and exceeded. If Holly were to name her biggest accomplishment as a teacher, it would be giving hope and support to student families while celebrating all of the life-changing accomplishments her students have made. Holly wants to expand outreach beyond her classroom. Her goal is to provide hope and resources to families who need help maneuvering the world of special education. Holly has created an LLC to do just that. She wants to provide advocacy, coaching, and consulting to families throughout the United States. Currently, she has a podcast called "The Heart of Advocacy" which she created to educate families of the intricacies of special education and to share some of the tried-and-true strategies that she has learned throughout her career.
---
2024 Regional Teacher of the Year
Olympic Region Educational Service District 114
Shannon Lund
5th Grade Teacher
Mullenix Ridge Elementary School South Kitsap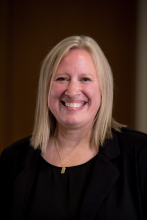 Shannon Lund teaches fifth grade at Mullenix Ridge Elementary School in Port Orchard. She has been a member of the Leadership Team. She has also been a member of the district Math Curriculum Adoption Team and the district ELA Curriculum Adoption team. She is a member of the Child Support Team in her building which identifies struggling students and finds solutions to help students make progress. In addition, she created a homework club after school where kids get extra help with their work and develop good working habits. Shannon believes that collaboration and collegial relationships make for stronger schools and has hosted many student teachers and new teachers from across the district. Shannon graduated Magna Cum Laude from Western Washington University in 2011. She was the Masonic Outstanding Educator in 2017 for Mullenix Ridge Elementary School. She also received a South Kitsap School District award for nurturing growth and inspiring achievement in 2013. As a college student, she received the Western Washington University Bertha Crawford Outstanding Student Teacher Award 2011 as well as a Multicultural Education Award from the Center for Education Equity and Diversity. Shannon's teaching style is relational and unique. She believes in building a strong classroom community where students feel safe and valued. When students know they are cared for, they are more likely to ask questions, contribute to discussions, and take risks in their learning. There is no "one size fits all" classroom. Her classroom evolves to fit the needs of each student. Shannon also builds strong relationships with families to support their students and provide the best learning experience for kids. As a mother of a child with autism, she values the differences each student brings to the classroom. Kids can learn so much from each other and teach us so much about ourselves.
---
2024 Regional Teacher of the Year
Educational Service District 123
Eric Matson
High School CTE/Construction Tech Instructor
Walla Walla Public Schools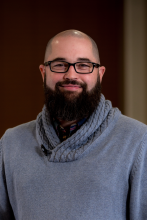 Eric Matson is a CTE instructor at SEATech (Southeast Area Technical Skills Center) in Walla Walla, Washington. He teaches Construction Technology to juniors and seniors from six different high schools in the Walla Walla Valley. He has been teaching for seven years now. All of which have been spent at the skills center. As a professional, Eric is enrolled in the National Board Certification Program and plans to submit his final documents within the next year. Eric is currently serving as a board member on the Habitat for Humanity committee. The Construction Technology program he teaches has partnered with them as well. The class has built four houses to date and plan on building seven more in the next few years. Eric and his students have also assisted multiple nonprofit organizations throughout the surrounding areas including the Walla Walla Valley Disability Network, Walla Walla Public Schools, and the Little League Baseball fields. Eric is an advocate for families and individuals with disabilities. He believes that inclusion should be taught in every classroom and understands the importance of teaching students with or without disabilities and how it affects everyone. Having a daughter with autism has given him a personal connection and different outlook on supporting students with challenges. He understands that everyone has a purpose and is here to teach. Along with his community connections, Eric has also developed industry partners. His partnerships include the NCCER, AGC, and CorePlus. Recently, Eric was asked to serve on one of multiple committees to develop the new strategic plan for Walla Walla Public Schools. The committee he will serve on will collaborate to develop 21st Century Skill Promise Standards from Transitional Kindergarten through twelfth grade. This process will extend over the course of the next five to seven years.
---
2024 Regional Teacher of the Year
Sarah Burnell
4th Grade Teacher
Clovis Point Elementary School Eastmont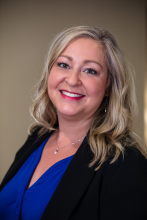 Sarah Burnell teaches 4th grade at Clovis Point Elementary School in East Wenatchee, Washington. She enjoys helping students develop a love of reading and making learning fun and accessible for all. She is also an advocate for teacher collaboration. Sarah works with administrators and teachers to make her school a place where kids want to learn and teachers want to teach. She serves as the 4th-grade level representative on her school's Site Council and helps make decisions about teaching, learning, and the educational process. Sarah taught 6th grade English Language Arts for nine years. She brought her experience to the Eastmont School District curriculum adoption committee and served on the district report card committee developing the elementary report card. Sarah is passionate about Professional Learning Communities (PLC) and uses her experience to advocate for the growth and development of PLCs at Clovis. Sarah uses research-based engagement and language-building strategies to help students learn. Over half of the students at Clovis are multilingual learners. She used these strategies to build language and academic skills. Sarah believes kids must enjoy reading to grow as readers. In 2018, she received money for her classroom library from James Patterson and Scholastic Book Clubs Giveaway. Her class helped select the new books they wanted to read. She also uses community-sponsored reading incentive programs to bring excitement to reading. Sarah believes in the power of building positive relationships. Her students know she cares about them and wants them to succeed. She creates a safe and welcoming learning environment. In her classroom, all students feel included, respected, and valued. She uses social emotional learning activities and provides regular opportunities for students to share about themselves. She celebrates successes and mistakes as learning opportunities. As a result, students feel comfortable taking chances, making mistakes, and learning.
---
2024 Regional Teacher of the Year
Northwest Educational Service District 189
Maddie Huscher
Middle/Junior High Science/PE Teacher
La Conner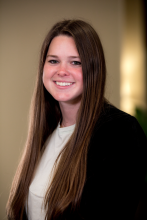 Maddie Huscher researched anthropogenic influences in sedimentation patterns off the California Coast at California State University, Fullerton. She was awarded a full-tuition scholarship to the Richard Gilder Graduate School at the American Museum of Natural History in NYC to pursue her Master's in Teaching Earth Science. It was here that she learned how to bring hands-on learning into the classroom, promoting life-long learners. Following the completion of her Master's, Maddie became the Science and Outdoor Education teacher at La Conner Middle School. Maddie is the first teacher at the secondary level to incorporate daily community circles in her classes to build a stronger sense of belonging for her students. Maddie started Climbing Club for La Conner middle and high schools. Due to the positive impact on the students involved, she has helped Burlington High School start a similar club. Maddie is helping lead the transition into Mastery-Based Learning at the middle school. She coaches teachers as they choose essential standards, and helps them create effective mastery checks. Maddie created Skagit Safari, a four-week long summer course for first through ninth graders. She takes her class to new locations and focuses on Common Core standards that the students struggled with during state exams. For example, first and second graders practiced addition by adding the total number of crabs and sea anemones in tide pools at Rosario Beach. Seventh, through ninth graders learned about flooding and sedimentation patterns while visiting Rasar State Park. Maddie is planning Incorporating Seaweeds of the Salish Sea into K-12 Lesson Plans Workshop in partnership with Western Washington University. She is working with professors at WWU to plan a workshop for teachers in the local communities to learn about seaweed contaminates, collect data, and help them create lesson plans to implement what they learned in their classrooms.
---