Temperance and Good Citizenship Day
#FutureVoter Quick Links
#FutureVoter Toolkit includes: Classroom Guide to Voter Registration, Printable Voter Registration Forms, and Voter Educational Materials
Voting is a critical function of our democracy. In 2018, the Washington State Legislature created the Future Voter program in an effort to increase access to voter registration and recognize the importance of lifelong civic participation. Because of this work, 16- and-17-year olds will automatically be registered to vote when they turn 18.
The law requires schools to provide high school seniors the opportunity to register to vote, during social studies instructional time, on Temperance and Good Citizenship Day. In addition to #FutureVoter, new legislation: RCW 29A.08.170 (effective January 1, 2022), provides 17-year-olds who will be 18 by the November General Election the opportunity to vote in the August Primary.
​​​​​​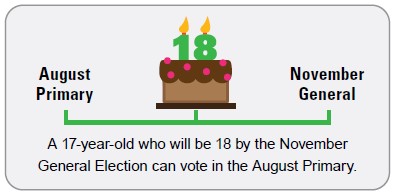 Recent data shows a significant increase in youth voter pre-registration and registration since the implementation of Future Voter programs. To continue to support this effort, the Office of the Secretary of State (SOS) and OSPI collaborated to provide voter registration materials, lesson plans, and digital media to encourage future voters to sign up.
Please explore the Elections and Voting Teacher Resources, on OER Commons, to download the #FutureVoter materials.
It is important to educate #FutureVoters about the issues, processes, and impacts of voting in elections. The following resources include links to lesson plans, videos, games, and printable activities to assist teachers K—12 to promote civic participation and voting.
· Crash Course Government #6: Congressional Elections; Video: https://www.pbs.org/video/crash-course-government-6/
· Crash Course Government and Politics #38: How Voters Decide; Video: https://www.pbs.org/video/crash-course-government-and-politics-38/
· Growing Voters; K-12 Lesson Plans and Classroom Materials: http://www.growingvoters.org/
· iCivics; Lessons and Digital Games – Elections and Voting: https://www.icivics.org/teachers
· OSPI Washington OER; Civics Course Resources – Guide to Civic Education Legislation, The Six Proven Practices for Civic Education, and Resources for Teaching Civics in Grades 9-12: https://www.oercommons.org/authoring/48928-civics-course-resources?__hub_id=1
· PBS Newshour; Lesson Plan - To Vote or Not to Vote: https://www.pbs.org/newshour/extra/lessons-plans/to-vote-or-not-to-vote-lesson-plan/
· Teach With TVW; Videos and Lessons – Campaign Classroom (Statewide Campaigns and Elections): http://www.teachwithtvw.org/campaign-classroom/
· WA Secretary of State; Lesson Plans - Teaching Elections in Washington State: https://www.sos.wa.gov/_assets/elections/mock/teachers%20guide%20curriculum%2010.08.2018.pdf
· WA Secretary of State; Resources – Hyperlinked List of Local and National Civics Education Organizations: https://www.sos.wa.gov/elections/civicseducationorganizations.aspx
· We The Voters; Videos – Series of Videos on Issues Including Voting
-->